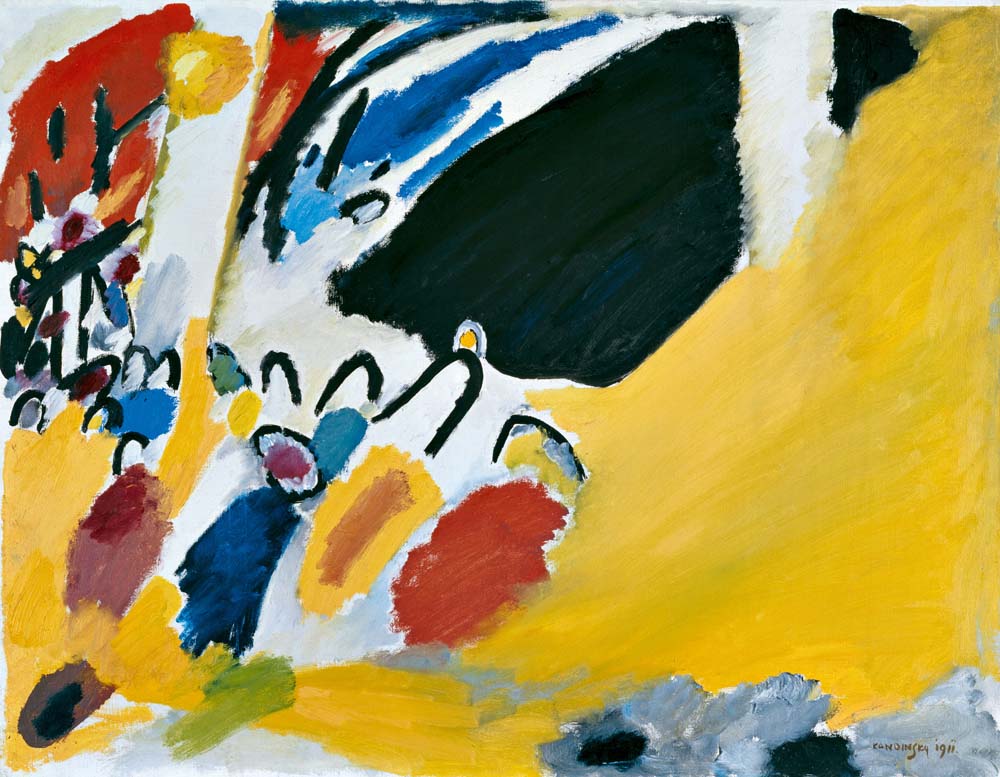 《印象Ⅲ(コンサート)》ワシリー・カンディンスキー
新曲作品公募のお知らせ(English below)

この度、NPO 法人 Con-Tra Culture では 2023 年 5 月に群馬県高崎市内にてコラムニストとして活躍中の山田五郎氏を招聘しレクチャーコンサートを開催する運びとなりました。
つきましては以下のテーマに沿ったピアノソロ作品を広く公募致します。
選ばれた作品は、同レクチャーコンサート内においてピアニスト川村恵里香氏によって初
演されます。
皆さまの応募、心よりお待ちしております。
テーマ: ワシリー・カンディンスキーによる絵画作品《印象Ⅲ(コンサート)》の印象
編成:ピアノソロ
長さ:15 分以内
申し込み:以下Google フォームより
必要書類
1スコア
カンディンスキーによる《印象Ⅲ(コンサート)》から受けた印象により作曲された未発表の作品。
2履歴書
形式は問いませんが、出身国と性別をお書きください。
※この公募では優先度が設けられています。ウクライナ在住もしくは出身、LGBTQ+、女性の作曲家が優先されます。ご了承ください。
https://docs.google.com/forms/d/e/1FAIpQLScSIzQ6XoEjZW2X1Y6TCz_pDMUg07gogcVwk7sy2wobCTETdg/viewform
※もしグーグルフォームが機能しない場合は下記のメールアドレスへスコアと履歴書をお送りください。
journal.concul@gmail.com

参加費 無料
締切 2023 年 2 月 28 日 23:59(日本時間)
発表:3 月 15 日
初演:2023年5月20日 高崎シティーギャラリー
選出された方には結果が決まり次第当事務局より一報致します。
※今回の公募については昨今の状況を鑑み、ウクライナ人アーティスト及び LGBTQ+の
方が優先されます。
Call for music! 2023 – for Piano solo
Gunma Japan
2023
  Con-Tra Culture, a non-profit organization of Japan, is pleased to announce the launch of a lecture concert featuring columnist Goro Yamada in Takasaki City Gallery on May 5, 2023.  We are searching for works of piano solo, aligned with our concert theme. Selected works will be premiered by pianist Erika Kawamura.
ELIGIBILITY AND CONDITIONS
Eligibility is open to international applicants regardless of their location or nationality. The piece must be composed for this specific call for scores. No public performance of the work may have taken place before its' world premiere by the Commissioner.
Participation Fee: Free
Deadline: 28 February 2023 23:59 (Tokyo time)
The names of the submitters will be anonymized upon received. All digital copies of the submitted materials will be deleted once the evaluation ends.
*In view of the current situation, Ukrainian, LGBTQ+ and female composers will be prioritized for this open call.
SUBMISSION MATERIALS
The candidates must submit the following documents:
Score (pdf)
The new piano solo work must be composed based on the impressions received from Kandinsky's "Impression 3" (See picture here: https://www.musey.net/5283/11078)
Instrumentation: piano solo
Maximum Duration: 15 minutes
CV/Resume and List of Works (pdf)
A full CV/resume and a list of works, including links to their previously composed works
APPLICATION PROCEDURE
Fully complete the following form: https://docs.google.com/forms/d/e/1FAIpQLScSIzQ6XoEjZW2X1Y6TCz_pDMUg07gogcVwk7sy2wobCTETdg/viewform
※If you can't open this link, please send score and CV by e-mail. (journal.concul@gmail.com)
Selected applicants will be contacted by the secretary by March 15, 2023.
The selected works will be premiered at Takasaki City Gallery on May 20, 2023.